About: 
The Root App equips young parents to build parent-child engagement. The app features provide parents with tools and activities that help them instill resilience in their children at an early age.
User Goals:
The primary goal is to understand parents' need to equip them with useful child-rearing advice and guidance. 
Business Goals: 
The primary goal is to create a parent community that can share ideas and network. The secondary objective is to encourage positive interactions between parents/caregiver and their children to improve the future development of the child. 
My Role:
User Experience Designer, I conducted the 
primary research, created target personas, created wireframes and designed the first version of the prototype and app UI elements, and did concept testing.
Timeline:
4 weeks,
Tools:
Sticky notes, Pen, Paper, Cards, Pencil, Adobe Illustrator, Photoshop and InVision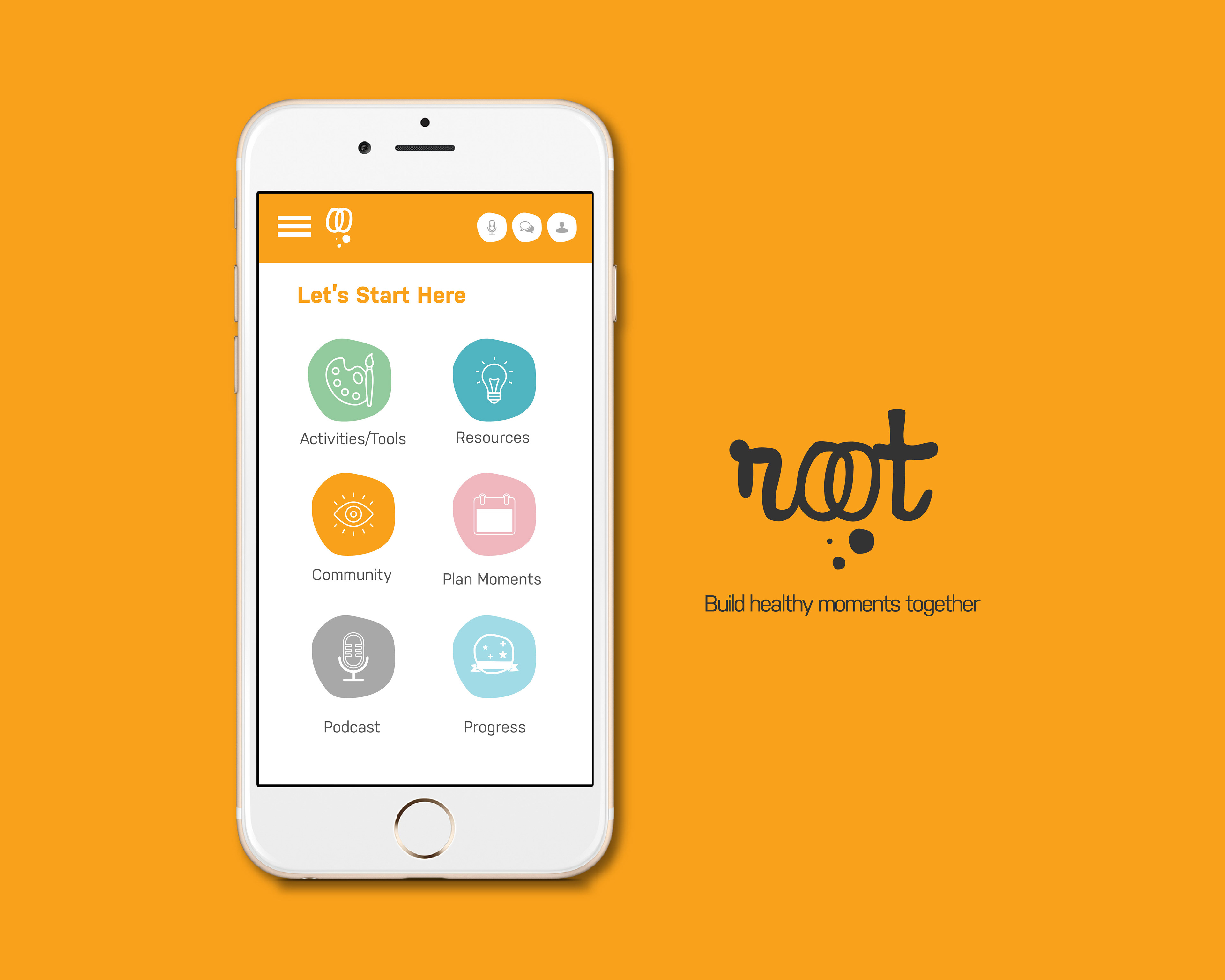 First, I 
researched about the subject by noting down learnings from scholarly articles and trade publications. Then, based on the learnings from the research I interviewed 5 parents. I asked them what elements or support would help them strengthen their relationship with their children and help positive development of their child by card sorting. Finally, I gathered information to create the movie categories.
Research from Scholarly Articles and Trade Publications:
"In this culture, you need to build relationships with your kids early because if you don't it will be hard to do later"
"I was happy to talk to others; I need to make sure I talk about my own issues. Back in Africa it was so hard, with no opportunities etc. This is a good opportunity to learn and talk." 
- 

Parents and Children's Coping: Building Resilience and Wellbeing in the Early Years, Frydenberg, E., Deans, J. & Liang, R. Soc Indic Res (2017), Springer Netherlands. 

(Table 4, Page 11)
"The fact that a small infant or child can induce an assault by a much larger individual, against all the sanctions of society, tells us something about the power of the young in normal child rearing, including their ability to resist and divert the socialization efforts of their parents."
- 

The influential child: How children affect their environment and influence their own risk and resilience, Davidov, Maayan, Knafo-Noam, Ariel, Serbin, Lisa A, Moss, Ellen, Development and psychopathology, November 2015, Vol.27(4 Pt 1), pp.947-51
(p. 824)
"Part of resilience is learning some skills, some tools to stay safe," says Jerry Moe, who works with children of alcoholics at the Betty Ford Centers in California and Texas. One technique Moe uses a lot is playing a game he calls wheel of misfortune, in which kids brainstorm on ways to handle situations like being yelled at by a drunken father or a mom's wanting to drive them somewhere when she's had three too many.
- 
The Importance of Resilience, By Christine Gorman, Sarah Sturmon Dale, Wendy Grossman, Kathie Klarreich, Jeanne Mcdowell and Leslie Whitaker, Jan 09, 2005, Time Magazine.
I asked participants to sort the cards from most useful to least useful. 
The categories that emerged from parent interviews were as follows:
3. Expert advice and personalized recommendations
5. and Planning time well.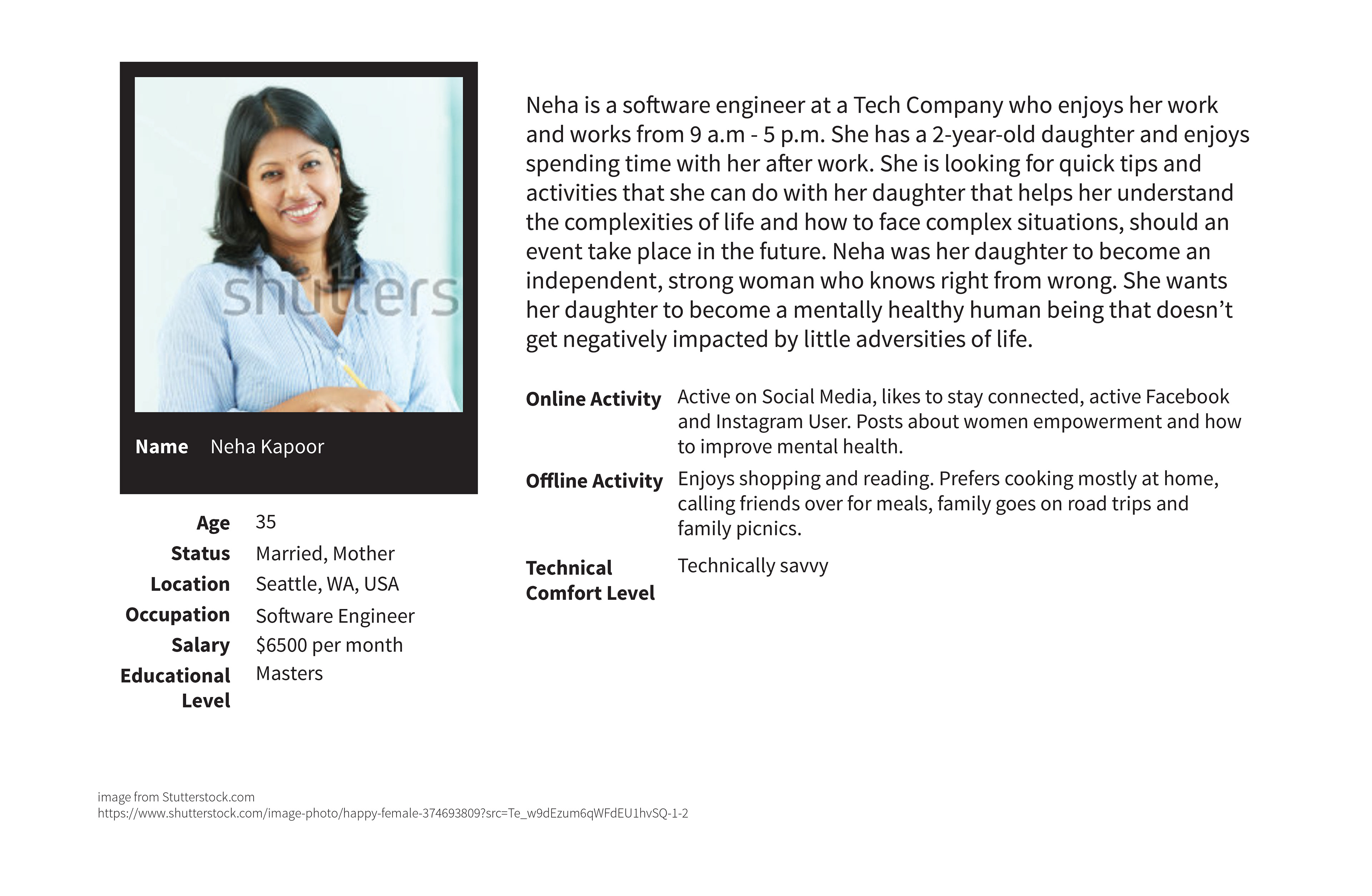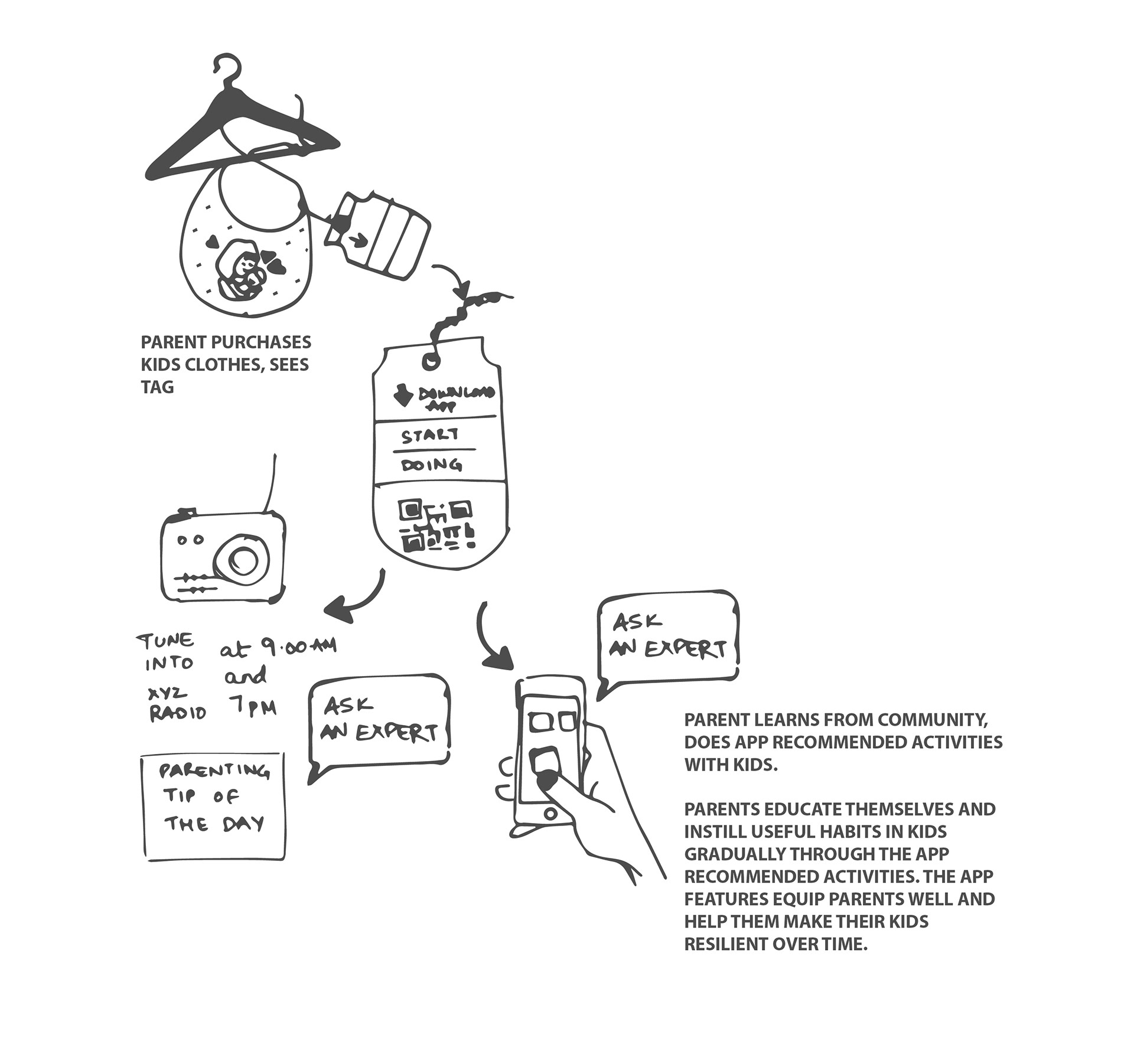 Based on the research, I created the six sections within the app; these sections came from recurring themes that I heard from parents and read during my scholarly research. Activities, Resources, Community, Plan moments, Podcast and Progress.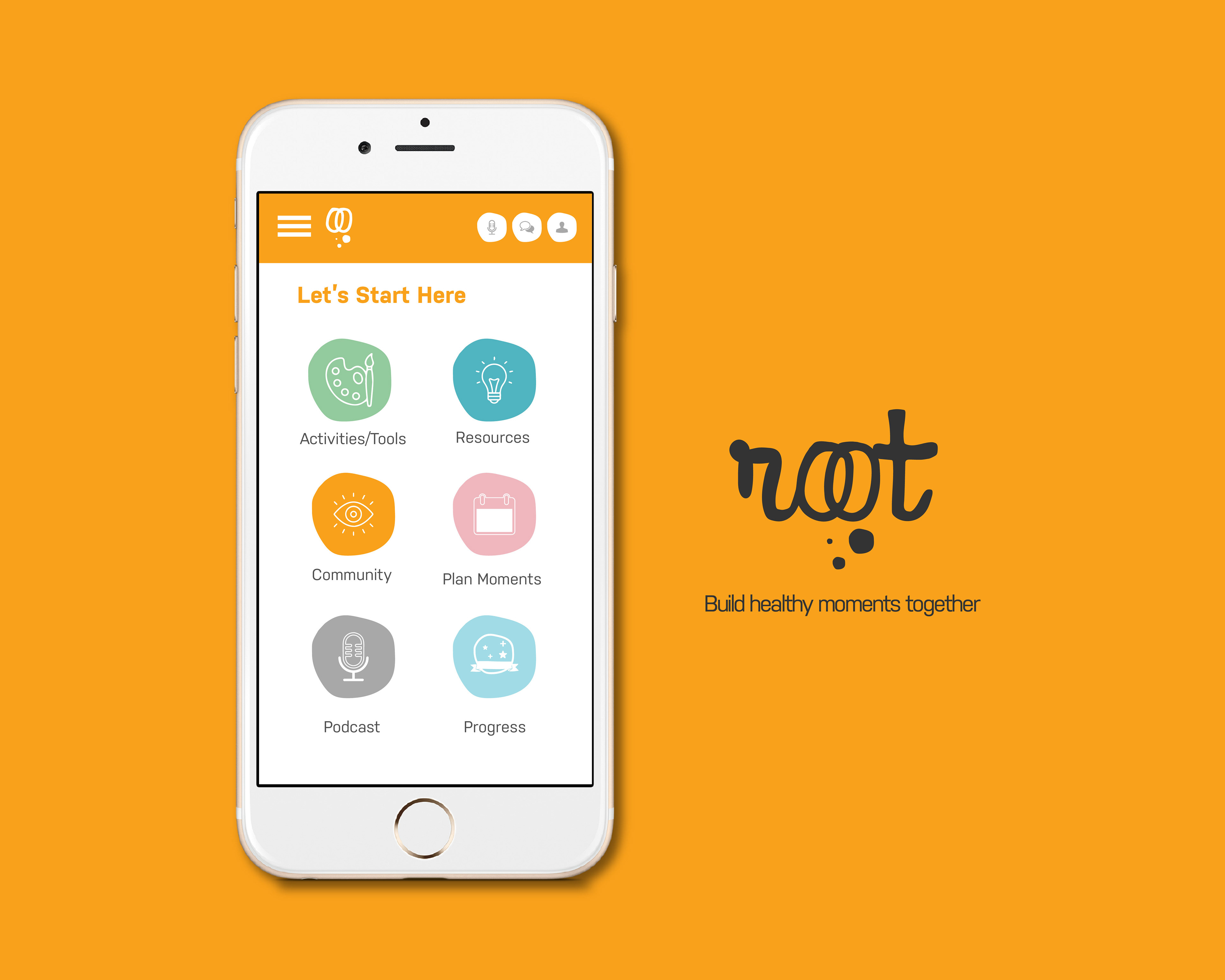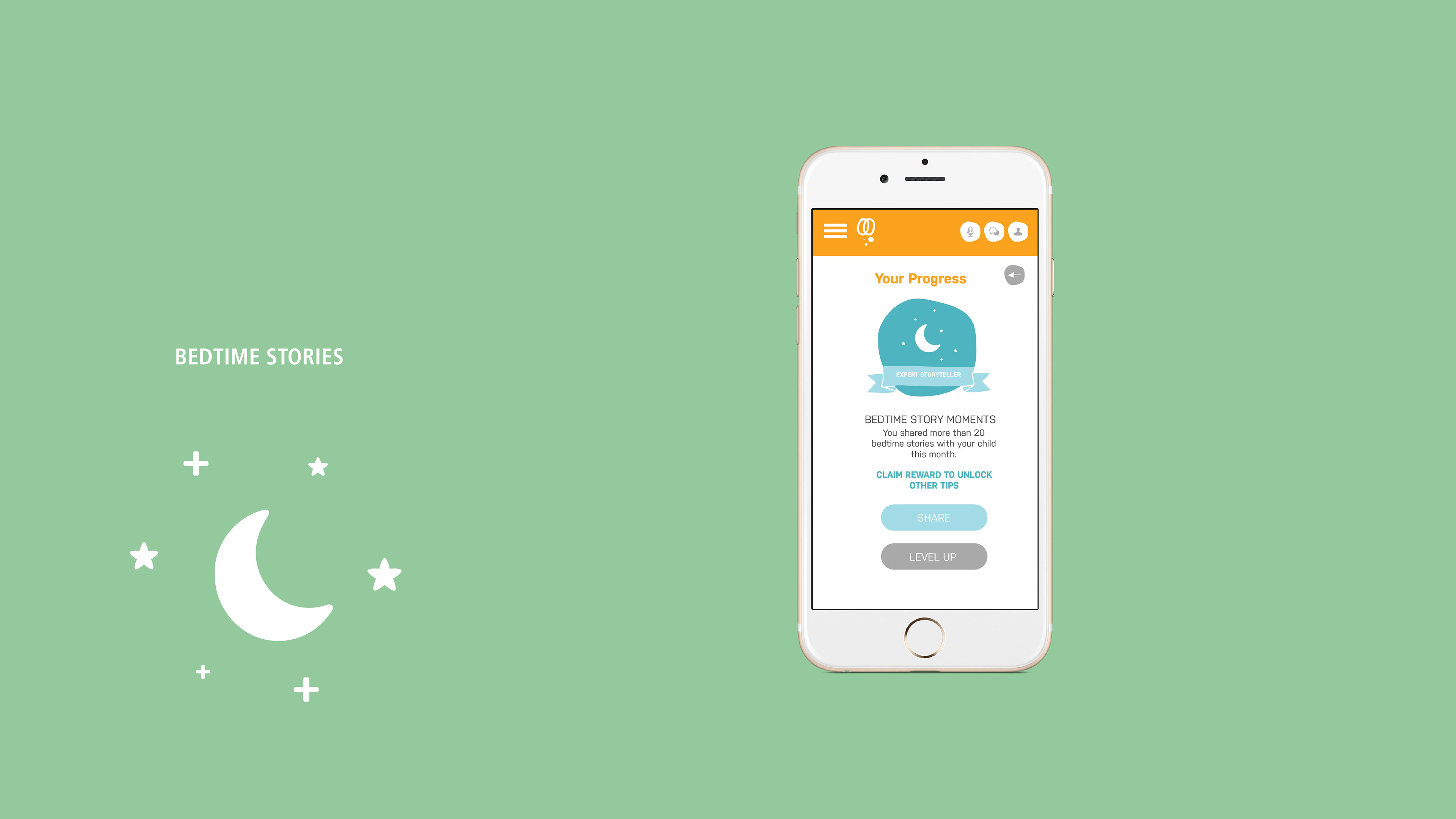 Sub-categories under Activities category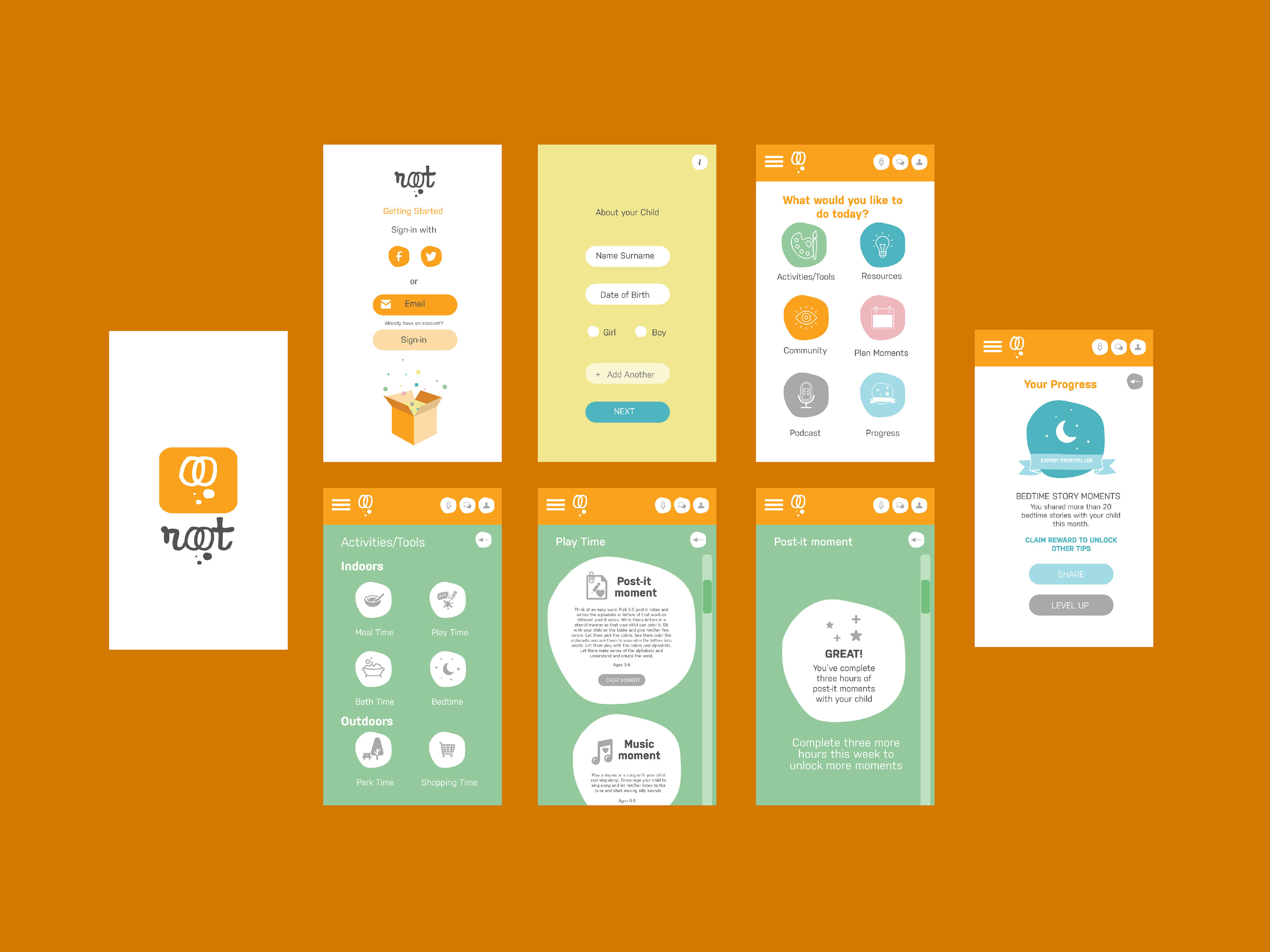 Post testing the prototype with 4-5 parents I gathered the below mentioned feedback:
Change #1 Lessons Learnt - A way to help parents record and journal their experiences with their kids (personal journal within the app.) Record an experience they faced and any situations that they worked through with their children. What did they learn from those situations? 
Change #2 Under the activities section - some exercises to help kids think on their own and help them develop strategies will be good.  Example: "planning a pretend vacation" - what location would your kids pick? What activities would they select? 
Change #3 Have additional information about what the main page features entail. When one clicks on one of the tabs on the primary page example "resources." Just a sentence explaining what the section is about would be helpful. 
Conclusion: What would be the next iterative steps to enact those changes? 
Next Steps for App improvement:

Parent Journal Feature - This is where the user (parents) will be able to record / track / make notes about their learnings over time. Keep a record of how they tackled a situation. 

Development Activities under the Activities section will be geared towards exercises /planning to be done by the kids. The parent will be given prompts within this feature, and they can assist their kids in making trip plans, etc. and do travel research. Such activities will teach the kids about making their own choices and trusting themselves. 

Roll-Over Description - When the users scroll over the tabs, it will display the information about that section so that it makes navigating through the application easier.